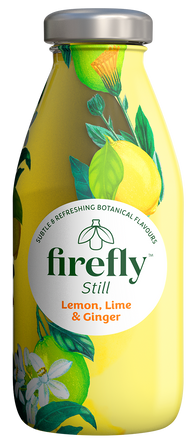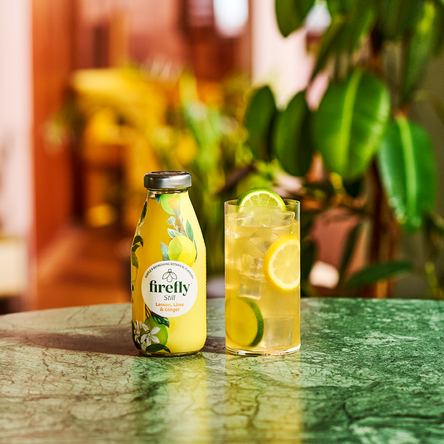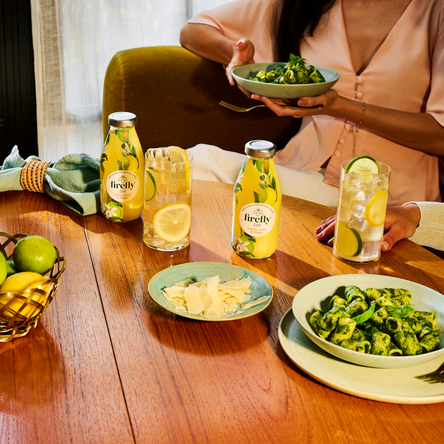 Ingredients
STILL WATER, FRUIT JUICE FROM CONCENTRATE: WHITE GRAPE ('45.2%), LEMON (3.4%), LIME (3%); BOTANICAL EXTRACTS (0.03%): NETTLE AND DANDELION; NATURAL GINGER AND NATURAL ROSEMARY FLAVOURING, OTHER NATURAL FLAVOURINGS.
Nutritional Information per 100ml
Energy: 132 kJ/31 kcal
Fat: <0.5g
Of which Saturates: <0.1g
Carbohydrates: 7.2g
Of which Sugars: 6.7g
Fibre: <0.5g
Protein: <0.5g
Salt: <0.01g
More reasons to enjoy Firefly
Check out our recipes for the perfect food pairing to your Firefly! Simpy sit, sip and savour.
Learn more

contains only naturaly occurring sugars

no colours or preservatives
vegan-friendly
'I really love this drink it is one of my favourites! The flavour is so amazing and refreshing. Lovely to drink when on the go. It's a nice alternative to energy drinks and fizzy drinks.'
- Keys, London
'I found this so refreshing, I have just discovered this brilliant replenishing drink and I can't get enough of it.'
- James, Wymondham
'A really nice drink! Picked this up as a treat whilst passing through John Lewis and actually went back to buy another later on!'
- Hayley, London
'I love Firefly drinks they taste fantastic. I love the bottles great design. Totally got my family hooked on theses drinks. One of the best natural drinks brands out there. Would highly recommend the the Peach and Green Tea and also highly recommend there other drinks to all taste great.'
- Kim, Amazon